Wednesdays Watchers - NFL Draft Stock Watch
Wednesdays Watchers is a weekly Stock Up/Stock Down feature breaking down the players who's 2014 draft stock were most affected by the past weekend's games, for good, or for bad. Who's rising? Who's Falling? Find out each week with Wednesdays Watchers! Click here for last week's "Watchers"
---
1. Michael Sam - DE/OLB Missouri.
Going head-to-head with Jadeveon Clowney, it was Michael Sam who was most impressive, having arguably the most dominating performance by a pass rusher we've seen this year. Sam finished
with three TFLs (Most in the nation) and had a sack (Tied for most in the nation), but he easily could have had three times as many of each. The attribute that stands out most to me about Sam is his "bend". The ability to get lower than the O-Lineman and turn the corner without losing, but actually picking up speed. It's what makes Von Miller so dominant (Besides the drugs). Sam also has violent hands and is a savvy pass rusher with ideal size to play in a 4-3 or a 3-4. He's moved into the first round discussion.
---
2. Ra'Shede Hageman - DT/DE Minnesota. Hageman has been a prospect on the rise all year and we even featured him on our Wednesdays Watchers last week. However, in Minnesota's upset win over Nebraska Hageman played had his most dominant performance of the season and sent his stock skyrocketing. Hageman had two TFLs and one sack, but actually had two additional sacks taken away due to penalties. This monster has locked himself into the first round, and now even the top 15 isn't out of the discussion.
---
3. Ross Cockrell - CB Duke. We're only through nine weeks and Duke Football is already bowl eligible! What dimension are we living in??? Duke's passing defense checks in at 39th ahead of teams like Oregon and Ohio State thanks to their leader Ross Cockrell. Cockrell picked off five passes last year in a breakout season, and got his second of the season Saturday as the Blue Devils got one of the biggest wins in program history on the road at Virginia Tech. Cockrell is such a fluid athlete who excels in man coverage. He also has great ball skills and drives on the football exceptionally well. In an incredibly deep class of cornerbacks, Cockrell's name is not one to be overlooked.
---
4. Trent Murphy - OLB Stanford. It seems that the more consistent you are, the more the media seems to ignore you. Trent Murphy had 10 sacks and 18 TFLs last year and nobody paid attention, and now he's on pace to shatter those numbers but still nobody is paying attention. In a huge win in Corvallis over an underrated Oregon State team, Murphy racked up 3.5 TFLs, 2.5 of them being sacks. He's such a smart, intelligent football player, and anybody who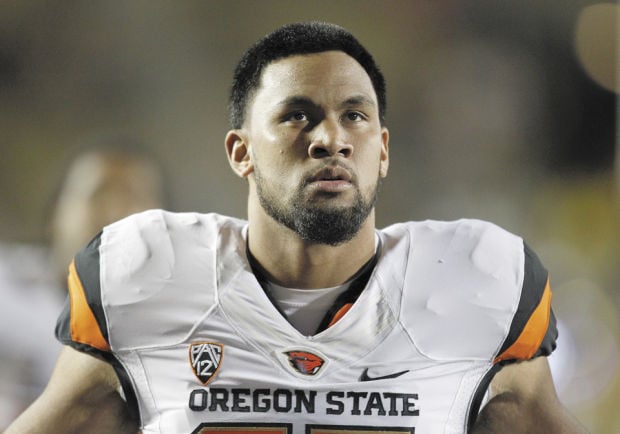 says he isn't athletic is just ignorant. He's a top 50 lock.
---
5. Scott Crichton - DE Oregon State. Crichton has been active in game all year, but his play hadn't quite been translating to the stat sheet which means most Draftniks have been ignoring him. Hopefully more people are paying attention now that he's racking up the numbers, and anybody who watched the game against Stanford couldn't help but be impressed. Crichton was in the backfield and around the ball all game, recovering a fumble for 30 yards, and also recording a sack. Crichton is a big defensive end at 270 pounds, but is a quick-twitch athlete who is very light on his feet. We currently have him up to 32 in our latest mock draft update.
---
6. Aaron Donald - DT Pittsburgh. Aaron Donald's stock has been steadily climbing all season as he's the type of guy who gives you exactly what you expect from him game in and game out. He's got 13 tackles for loss and eight sacks on the season, which is remarkable for a defensive tackle! Donald is 6-0 285 and brings an excellent combo of power and quickness, along with a non-stop motor. He plays with great leverage and is also great against the run, which is why many feel he's a perfect fit for the 3-4 as a five technique.
---

1. Brett Hundley - QB UCLA. We considered Hundley's disappointing performance against Stanford a fluke, but two weeks in a row now is starting to get concerning. Against Stanford and Oregon, Hundley has crumbled in crucial moments, especially on third down, not coming up with key plays when his team needed him. He hasn't been dreadful, but we are all talking about this guy as a top five pick, and at the very least he's remaining stagnant while guys like Mariota are moving up.
---
2. Colt Lyerla - TE Oregon. There's nothing much to say about this former five star recruit. He's a total idiot, and I'd be completely shocked if he got drafted.
---
3. Dri Archer - RB Kent State. I hate to put Archer on this list considering he was one of my very favorite players in all of CFB last year, but 2013 has been a struggle for him plain and simple. Most of it is due to an ankle injury which has crippled him all year. He's clearly not at 100% and he's not making much of an impact with no 100 yard games against FBS opponents. Archer totaled 1,990 yards last year rushing+receiving but only has 520 so far this year.
---