Wednesdays Watchers - Week Six
Wednesdays Watchers is a weekly Stock Up/Stock Down feature breaking down the players who's 2014 draft stock were most affected by the past weekend's games, for good, or for bad. Who's rising? Who's Falling? Find out each week with Wednesdays Watchers! Click here for last week's "Watchers".
---
1. Paul Richardson - WR Colorado.
After standout freshman and sophomore campaigns, Paul Richardson tore his ACL pre-season last year, missing the entire season. Richardson has come back with a vengeance in 2013, and looks better than ever! His first two games this year were 10/208/2 and 11/209/2. Then he put up 70 yards and a TD against Oregon State, but his most impressive showing was this past week against Oregon. Matched up against Ifo Ekpre-Olomu, Richardson hauled in five catches for 134 yards including this
insane one handed catch
. Richardson has No. 1 size at over 6-1, also possessing the speed and athleticism to be a playmaker. He's a day two lock and moving into the first round discussion.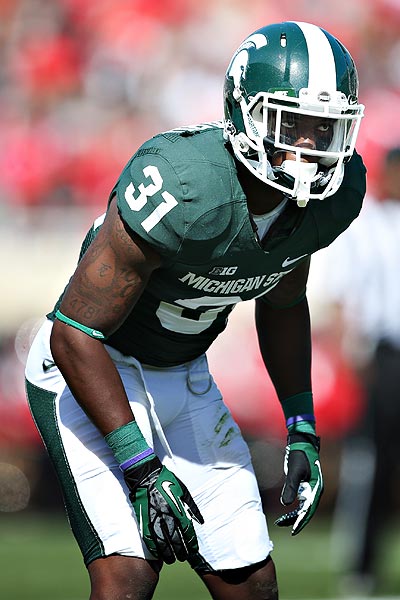 ---
2. Darqueze Dennard - CB Michigan State. For the past three years Darqueze Dennard has been one of the most underrated cornerbacks in the country. Dennard plays a very physical brand of football, excelling in bump and run, but also shows great awareness in turning to look for the football. He's played great all year, flashed against Notre Dame and finally got rewarded with his first two interceptions of the season against Iowa. It sounds crazy, but don't be shocked if Dennard is one of the first corners off the board in May's draft.
---
3. Allen Robinson - WR Penn State. It's amazing to think that this six foot three physically dominant receiver, who reminds many of Vincent Jackson, only had four scholarship offers from across the nation. Robinson is averaging 125 yards a game so far this season and has five TDs on the year. This past week against Indiana, Robinson racked up 12 catches for 173 yards and two TDs. Robinson's name is right along with guys like Jordan Matthews, Brandon Coleman and Paul Richardson near the top of the second tier class of receivers.
---
4. Eric Ebron - TE North Carolina. Unlike fellow tight end prospects Austin Seferian-Jenkins and Colt Lyerla, Eric Ebron has had no off the field issues and is playing at a high level while on it. Ebron stole people's attention a few weeks ago with an incredible one handed catch but if they stuck around to watch more, they'd see Ebron is much more than a flash player. He's got the ball skills and athleticism of a receiver, but he's 6-4 240 and does a great job blocking as well. He could be the draft's No. 1 tight end before long.
---
5. Cyril Richardson - OL Baylor.
Who ever thought that Baylor's offense could be any better than when RG3 was there? Right now it is. They're producing at a ridiculous clip, averaging over 70 points a game and 350 yards per on the ground. Everybody is paying attention to Lache Seastrunk, but Cyril Richardson deserves just as much credit too. He's been the one paving holes for Seastrunk and company to run untouched. Richardson has played some left tackle, and certainly has the athleticism to do so in the NFL, but he's dominating as a run-blocking guard for Baylor right now. His versatility will make him a highly valued asset to NFL teams.
---
6. Carlos Hyde - RB Ohio State. Hyde's season got off to a nightmare start when he was suspended for the first three games of the season, which sent his stock sliding. Now Hyde has returned to the field, and is perming like you would expect out of an NFL prospect. In a hard fought win over Northwestern, Hyde carried the Buckeyes with 26 carries for 126 yards and three TDs. He also seems very appreciative of his opportunity and sorry for mistakes. He's doing all the right things to balance his once shaky draft stock.
---

1. Colt Lyerla - TE Oregon. Expectations were sky high for this former blue-chip recruit coming into the 2013 season. However, after clashing with coach Mark Helfrich, Colt Lyerla has now decided to leave Oregon and will enter the NFL Draft. He had publicly butted heads with his coach through the media earlier this season, and apparently he
just couldn't work things out. There is no good way to spin this. The fact that Lyerla wasn't able to succeed in one of the most player friendly programs in the nation is not going to look good on his resume. He comes off looking very immature, and when you couple that with his 34 career receptions, his stock has no positive buzz whatsoever.
---
2. Seantrel Henderson - OT Miami. Here is yet another incredibly talented prospect who just can't seem to get things together mentally. The once No. 1 overall recruit in the land has now been suspended for the third time, this time indefinitely. Al Golden has called his star out in the media, and doesn't seem to have many people in his corner. The kid has the talent to be a top 10 pick, but he's driving his car right off the cliff.
---