Wednesdays Watchers - Week One
Wednesdays Watchers is a weekly Stock Up/Stock Down feature breaking down the players who's 2014 draft stock were most affected by the past weekend's games, for good, or for bad. Who's rising? Who's Falling? Find out each week with Wednesdays Watchers!
---
1. Jordan Matthews - WR Vanderbilt.
Normally a player who puked on the field and also dropped the biggest pass of the game wouldn't make it on a Stock Up watch list, but Jordan Matthews' game was overall an incredibly one.
Matthews could have left for the NFL last year after 94/1,323/8 but a lot of people still questioned his speed. Matthews silenced all those doubts with his 55 yard TD in which he outran the entire Ole Miss secondary. Matthews also showed outstanding intestinal fortitude by going over the middle and getting hammered in the stomach for a huge 1st down, followed by
a lot of vomit
, than a most improbably 4th and 18 conversion thanks to his 24 yard reception. It was one of the most unique performances I've seen in a long time.
---
2. Khalil Mack - OLB Buffalo. Most don't, but you should know who Khalil Mack is. He may soon hold college football's all-time record for Tackles For Loss. Mack had 56 TFLs in his first three years, and flat-out dominated Ohio State to start 2013. Not only was he a fixture in the Buckeye backfield with 2.5 sacks despite triple teams, but he also intercepted Braxton Miller and outran the entire Ohio State team for a 45 yard touchdown. His stock is skyrocketing!
---
3. Tajh Boyd - QB Clemson. Here are the numbers from Tajh Boyd's last two games; 36/50 346 yards, 3 TDs in WIN over LSU (SEC). 18/30 270 yards, 5 TDs in WIN over Georgia (SEC). I absolutely love Tajh Boyd, and more than most. But what is there about this guy to not like??? We all know he has the physical tools, but his leadership, IQ and
poise are what endear him the most. He's a top 5 pick.
---
4. Andrew Jackson - ILB Western Kentucky. Most people have never heard of the top inside linebacker prospect for the 2014 NFL Draft. Not your run-of-the mill thumper Andrew Jackson is a 260 pound linebacker who has incredibly quickness and athleticism. Leading up to the Hilltoppers game against Kentucky, Jackson talked a big game saying "I don't care anything about them. We're going to handle them on Saturday" and "We just gonna hit 'em in the mouth and get it over with." Jackson backed that talk up with a huge game. He was in on every play, made eight tackles including one tackle for loss which was easily the biggest hit of the weekend.
---
5. DaQuan Jones - DT Penn State. I continue to be amazed with how Penn State has carried on despite the turmoil. Bill O'Brien deserves most of the credit, but they've also had some tremendous leaders on defense and this year is no different. Da'Quan Jones held down the trenches for Penn State against Syracuse, shutting down their run game finishing with 9 tackles, and also wreaked havoc on the backfield with 3 TFLs and 1 QB sack.
---
6. Calvin Barnett - DT Oklahoma State. When was the last time you ever remember the Oklahoma State Cowboys "shutting down" another team defensively? Believe it or not that happened Saturday when the Cowboys held a BCS opponent to three points or fewer for the first time since 1995. Most of the praise should go to Calvin Barnett on the defensive line. His four tackles and half a sack don't tell the whole story, but he dominated the trenches. Barnett showed a great blend of power and quickness which helped him overcome Mississippi State top guard Gabe Jackson.
---
7. Roderick McDowell - RB Clemson. Losing Andre Ellington was an underrated blow for the Clemson Tigers offense and there was a lot of concern over who could possibly fill his shoes. Roderick McDowell didn't waste any time letting those questions linger by shredding the Georgia defense for 132 yard and 22 carries. His speed and explosion was on full display, and if he can keep performing like this, the former 4-Star recruit will continue rising up draft boards.
---

1. Logan Thomas - QB Virginia Tech. After a disastrous 2012 campaign that saw Logan Thomas go from 1st round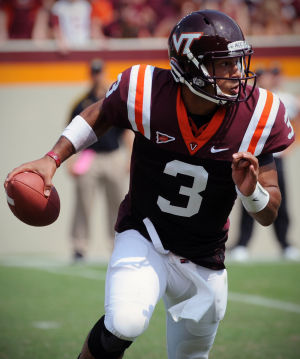 prospect to barely draftable as a junior, 2013 has become an obvious make-or-break season. It could not have gotten off to a worse start. Thomas went 5 for 26 (19%), 59 yards, zero touchdowns and one interception. Granted it was against Alabama, but what better barometer is there for an NFL quarterback than facing Alabama? I have no interest whatsoever in Logan Thomas as an NFL prospect, and most others are starting to feel the same.
---
2. Casey Pachall - QB TCU. I jumped on the Casey Pachall comeback wagon to start the season, but just as quickly as I jumped on have I jumped off. Pachall went 9 for 16 with zero touchdowns and one interception before getting yanked in favor of Trevone Boykin. The Horned Frog offense was infinitely more affective with Boykin at the helm, making many wonder whether Pachall will even remain the starting QB. It was a tough spot for Pachall to return in his first game back against such a tough defense, but nevertheless it was an opportunity that he let slip.
---
3. Kareem Martin - DE North Carolina Kareem Martin seems to be playing severely out of position at the moment. Larry Fedora runs an unusual 4-2-5 defense which has Martin playing the role of run stuffer but at the "six" technique mostly. Martin is a highly talented player who should be used as a pass rusher, but his best spot would be as a "five" technique in a 3-4 defense. Against South Carolina Martin was hard to notice as the Gamecocks gashes the Tar Heels for 228 yards on the ground as they cruised to a 27-10 win. Hopefully Martin's talents don't go to waste this year, because he certainly has the ability to be a top defensive end prospect.