Alfonzo Dennard Interview
Former Nebraska Cornerback, and top 2012 NFL Draft prospect stopped by talk with us about his career at Nebraska, former teammate Ndamukong Suh, the Senior Bowl, and his draft prep moving forward. Very good stuff!

---
Draft Geek:
 First off, everybody is hoping your O.K after you had to pull out of the Senior Bowl, we assume it isn't anything serious. Gunna be ready for the Combine?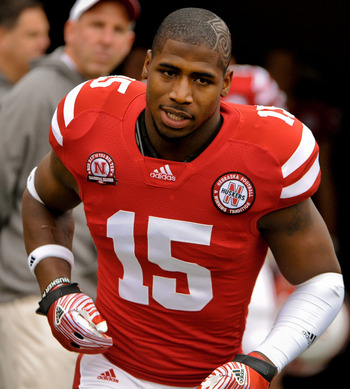 Alfonzo Dennard: I didn't pull myself out of the Senior Bowl, the Senior Bowl medical guys pulled me out because they thought it was in my best interest, and trying to help me get healthy for the Combine. To answer the question, am I going to be ready, yes I will be ready to compete. That's a blessing to be at the combine with such good players so I'm just trying to go have fun.
---
Draft Geek: What was your like experience at the Senior Bowl? How did you think you performed? What was cool about it? 
Alfonzo Dennard: Seeing all the great athletes trying to compete for the NFL, that was fantastic to watch. Coming from a system my four years at Nebraska, we played press coverage mostly all the time, and we played sometimes 7 yards off the ball inside, but at the Senior Bowl they wanted me to play outside 9 yards, so it was kind of difficult to get use to. We only had three days of practice, if someone wants to judge, don't judge off three days of practice, judge a player off four years of experience. But being around the great players and NFL coaches was the best by far. 
---
Draft Geek: As a Detroiter this question is of special interest to me. You were a teammate with Ndamukong Suh for a couple years, what were your thoughts of his as a teammate, have much interaction? Do you think it's fair how he gets portrayed? ?
Alfonzo Dennard: I mean, me and Suh didn't talk much, but sometimes when we were on the field together, and you wasn't doing what you had to do, he would get on you so I made sure when I'm on the field I'm ready to go, you really don't want to piss him off! LMAO!. Do I think it's fair how he gets portrayed? No, I don't think it's fair, I mean Suh is a natural born winner, he wants to make sure at the end of the game that the opposing team be like "I don't want to go up against this guy anymore" so I think he's being a mean football player, that's how you have to be now a days in the league. 
---
Draft Geek: There are a ton of Nebraska alumnus currently in the N.F.L. You especially close with any certain guys?
Alfonzo Dennard: Yes I'm close to Dejon Gomes. Me and him talk pretty much everyday, he just told me to be patience because this a long process, and once you get on a team in the NFL, go and ball out, because the sky's the limit. I talk to Ralph Brown as well and he was basically telling me the same thing.
---
Draft Geek: It must have been a little odd for you guys to switch conferences mid-career. What was the transition to the Big-10 Like? And where there any major differences you had to get used to?
Alfonzo Dennard: Well I Mean it wasn't a big difference, just the Big 12 threw the ball more, whereas the Big 10 ran the ball constantly, meaning you have to watch out for the play action a lot. I had to get use to being in the run fit more often. But I enjoyed going against different receivers in other conferences. 
---
Draft Geek: Obviously the NFL Combine coming up is a big deal. Are you looking forward to it? And do you feel you have anything to prove there?
Alfonzo Dennard: Yes I'm looking forward to the combine and competing, showing my skills. Do I have anything to prove? Yes I feel like I have something to prove, and that's to get better each and everyday through my journey in the NFL.
---
Draft Geek: What Current or Former NFL Player do you most compare yourself to, or look up to?
Alfonzo Dennard: Growing up Charles Woodson was my fav. Just because he's super talented, he loves to get physical with other players, and he's a ball hawk, has great footwork, and on the field looks like he be wide open all the time. So I think my game kind of like him.
---
Draft Geek: What do you consider to be your greatest strength on the field, and what would you most like to improve on?
Alfonzo Dennard: My greatest strength on the field would be man to man press corner, just so I could dominate the receiver every single play, just get my hands on them. I think I need to improve on my technique, and learn how to play it NFL style
---
Draft Geek: What is an NFL Franchise going to be getting with Alfonzo Dennard in terms of off the field, and personality? 
Alfonzo Dennard: I think the NFL team will be getting a great character a person, very coachable, well mannered guy, plus a great team player, and hoping to open up a Alfonzo Dennard scholarship foundation to help kids reach there goal to go to college. 
---
Draft Geek: O.K We'll let you off with a soft one. What do you do to get yourself ready for Gameday? Any specific meals? Music?
Alfonzo Dennard: Well I listen to slow jams before the game because I don't want to be to crunk going out there, I already be pumped up, so I need slow music to calm me down just a tad bit. LOL. I sit in one corner by myself and imagine me competing with the opposing team. 
---
Thanks so much for your time Alfonzo, we really appreciate it! Best wishes on all your pre-draft preperation, and in the draft itself, we're rooting for you!
Follow Alfonzo on Twitter here @FonzieDennard15