2009 NFL Draft Review
---
Once again, we are clearly shown by the 2009 NFL Draft, just how much of an uncertainty the NFL Draft really is. Everybody thinks they are getting a superstar with their 1st round pick, but the truth is, only about 17% of 1st Round Picks make multiple Pro-Bowls. This year stuck right to that mold, as currently, only 6 of the 32 1st Round Picks have made the Pro-Bowl (18%). Four out of the first 7 Picks were total busts, but the "Bust Rate" (F) wasn't too terrible (25%) Compared to a usual average of 30%. The "Hit Rate" (B or Higher) was actually pretty high, at 46%. However, the real problem with this draft class proved to be a severe lack of depth, with very few "Gems" found in the later rounds. After Round One, you can make the argument for only about 7-10 Guys as real impact players (Only 4 Pro-Bowlers). So once again, after 256 Selections, we have about 20-25 Impact Players (7-9%), and 10 Pro-Bowlers (4%). There we have it folks, the NFL Draft for you! I guess this is why we love it! Without further ado, let's get to it now and really break down the 1st Round!
Updated: August 2012
@Nolan Vasan & @Brian Johannes
---
#1) Detroit Lions- Matt Stafford (QB Georgia)

If we had written this article at the same time last year, it's possible the grade this pick could have been about a D. Stafford's NFL Career got off to a very unfortunate start as he struggled with many different injuries as a
Rookie, then in the very first game of the 2010 Season got his throwing shoulder smashed by Julius Peppers and missed virtually the entire season. 2011 was the make-or-break season for him, and it proved to be Stafford's coming out party as he threw for the 5th most yards in NFL History, with 5,038. Stafford to Calvin Johnson is an unstoppable combo, and they show no signs up slowing up. If Stafford can stay healthy, and be anything near what he was last year, he'll be one of the elite QB's in the league. It took some patience, but this #1 Selection provided dividends!
Grade: A
---
#2) St. Louis Rams- Jason Smith (OT Baylor)
Going into draft day, the Rams were torn between taking either Jason Smith or Eugene Monroe. Word out of the Rams camp is that the coaching staff wanted Monroe because he was more ready, while the front office wanted Smith because they liked his potential. Well the front office won the argument and that's a big reason why the Rams had the #2 pick in the 2011, for the 3rd straight year. While Monroe has turned into a steady LT for the Jaguars, Smith struggled with consistency, injuries, and was even moved to RT. Even at RT Smith is struggling, and only playing because there isn't a better option for right now.
Grade: F
---
#3) Kansas City Chiefs- Tyson Jackson (DT/DE L.S.U)
This was the first draft for GM Scott Pioli, and everybody was wondering how the former Patriot executive would turn around this team. He came out swinging, and it's safe to say that Jackson was a big surprise to many. On draft morning, the word of Jackson going #3 was leaked, but many people thought it was to ridiculous to actually happen. Pioli and the Chiefs felt that Jackson was going to be their version of Richard Seymour. However, Jackson struggled in his transition to the 3-4, and injuries have kept him out of the lineup. He was terrible in his first two years, but slightly improved in year three. However, he still graded out as a very average 3-4 DE, and for the #3 pick in the draft, this can be classified as a bust!
Grade: F
---
#4) Seattle Seahawks- Aaron Curry (LB Wake Forest)
Leading up to the draft, Aaron Curry was thought to be the safest pick in the draft, and was even drawing strong consideration from the Lions for the #1 overall pick. He was the complete package as a linebacker. Good instincts, and tackling ability. Good range, and coverage skills. So when he fell to pick #4, everybody thought it was a huge steal. Curry however, never really lived up to his draft position. Curry was outplayed by his fellow linebackers, and mid round picks were beating him out for playing time. This past season the Seahawks gave up on him and shipped him to the Raiders for next to nothing. Nobody really saw this one coming, and Curry flopping was a total shocker.
Grade: F
---
#5) New York Jets- Mark Sanchez (QB U.S.C)
This pick is really hard to judge as Mark Sanchez has been such an enigma in his pro career, but you also have
to look at the value, and circumstances of the pick. After the disaster which was Brett Favre as a Jet, they needed someone young to really take the team over. The Jets moved up from #17 to #5 for essentially a 2nd Round Pick (Another Eric Mangini Gem!). So the fact that they got the #2 QB in the draft, who ended up taking the Jets to the AFC Championship Game two straight years, you can't kill it too much. However, breaking down Sanchez specifically, and how the coaches have handled him is a completely different story. Sanchez is not great, but he is not the total bum he's been painted out to be at times. All things considered, this pick hasn't worked out too bad for the Jets.
Grade: B-
---
---
#6) Cincinnati Bengals- Andre Smith (OT Alabama)
Despite being the #6 pick in the Draft, Andre Smith's draft stock took a huge hit coming into the Draft Process. He was the consensus #1 O-lineman recruit coming out of High School, and was dominant for about 99% of his College Career. He was a Consensus All-American in 2008, and the superlatives were flying left and right for Andre Smith. However, just before Alabama's 2009 Sugar Bowl, things started to go south for Smith, as he was suspended for his involvement with an agent. Then at the NFL Draft Combine, Smith showed up very much out of shape (I think we all are still trying to forget
this image
!). Smith also was MIA for a time, and all-around, made a horrible impression in Indy. Thankfully for Smith, the Bengals were picking at #6, because if they didn't take him, it's possible he could have fell another 10-12 picks. But the Bengals should have passed. Although Smith has developed into a starter for them, it's been at RT. It's great to find starters in round 1, but in the top 10 you would hope that you would get a different maker.
Grade: C
---
#7) Oakland Raiders- Darius Heyward-Bey (WR Maryland)
Before draft day, some draftniks were mocking DHB to the Raiders solely because he ran a 4.30 40 and Al Davis loved to draft speed. It was pretty much a joke, and very few seriously thought this would happen. So when the Raiders took DHB over Michael Crabtree and Jeremy Maclin, most people had to take a few moments to recover after getting a good laugh. It's safe to say that DHB hasn't lived up to his lofty draft selection, and has been outplayed by Louis Murphy who the Raiders took in the 4th round that year. DHB had 35 receptions after his first two years, but finally showed signs of being functional last year with 64 Receptions for 975 Yards and 4 TD's. Which saves this pick from being a total disaster!
Grade: D-
---
#8) Jacksonville Jaguars- Eugene Monroe (OT Virginia)
Eugene Monroe wasn't a great athlete and wasn't very flashy, but always seemed to get the job done. But maybe that's why St. Louis and Cincinnati passed on him for guys with more potential. However Monroe has started since day 1 at LT for the Jaguars providing them with a very solid rock at the most important position along the offensive line. According to
Pro Football Focus
(Which we love!) Monroe graded out as the 3rd best Tackle in the League last year. When you are picking within the top 10, this is exactly what you want when you make your pick.
Grade: A
---
#9) Green Bay Packers- B.J Raji (DT Boston College)
Early in the draft process, Raji was a late 1st-to-early-2nd round type of prospect. But as the draft got closer, Raji started flying up the draft boards. Green Bay was transitioning to the 3-4, and needed to retool their Defensive Line to fit Defensive Coordinator Dom Caper's scheme. They decided to take a chance on the massive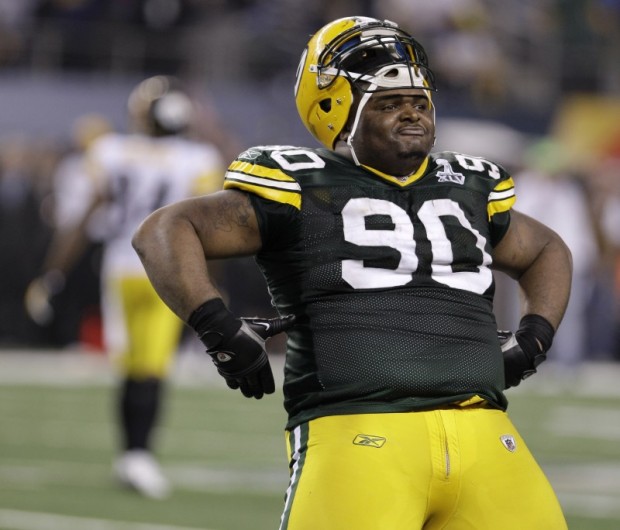 tackle who showed a surprising amount of athletic ability. Their decision has payed off massively. Not only has Raji developed into an integral part of the Packers defense, he is also considered one of the best, and most versatile Defensive Lineman in the league. Raji was a huge reason for the Packers winning the Super Bowl two years ago.
Grade: A+
---
#10) San Francisco 49ers- Michael Crabtree (WR Texas Tech)
Crabtree came out of College with arguably the best two year career of any Receiver in College Football History. He won the Biletnikoff Trophy both years, with stat-lines of 134-1962-22 and 97-1165-19. Crabtree was considered the clear cut #1 WR in this class. However, Crabtree had a stress fracture in his foot, and refused to run for any teams leading up to the draft, while also not impressing in interview, earning the reputation of a "Diva". That caused teams to pass on him, and have him fall into the laps of the 49ers. WR wasn't a huge need, but they couldn't pass on this great value. Maybe they should have. Crabtree proved to be a "Diva", when he held out for most of the season because he felt he should have been payed as the #1 receiver even though he wasn't the first WR drafted. Once Crabtree did sign, he struggled to stay healthy, and has made little impact. This past off season the 49ers signed 2 WR's in free agency and drafted AJ Jenkins in the 1st round. Can't say they have a lot of faith in him. Crabtree's lackluster career has come as a surprise to most, but let's just say his days may be numbered in San Fran if he doesn't pick his game up.
Grade: D+
---
#11) Buffalo Bills- Aaron Maybin (DE/OLB Penn State)
Buffalo traditionally reaches on players, so it was no surprise that they did so here. With Brian Orakpo still on the board, they thought they were smarter than everybody, passed on him, only to take one year wonder Aaron Maybin. Buffalo was wowed with Maybin's athletic ability, and felt that his speed and quickness would give offensive tackles fits. Maybin proved to be a colossal bust in Buffalo. Believe it or not, he NEVER RECORDED A SINGLE SACK, in Buffalo! The Bills cut him loose after year two. Then after getting cut by the Bears he caught on with the Jets. Maybin was able to come in and provide some help rushing the passer and by the end of the year was their best pass rusher. But that does nothing for the Bills.
Grade: F
---
---
#12) Denver Broncos- Knowshon Moreno (RB Georgia)
Denver was going for change, as new HC Josh McDaniels came in swinging a big stick, and rustling feathers, which ended up with him Jay Cutler, and Brandon Marshall being shipped out, along with anybody who wasn't exactly in love with McDaniels aggressive style. Knowshon Moreno was a fun, fancy player, but not many considered him to be a "Workhorse" Running Back. Evidently, Denver and McDaniels did, as they reached for him at #12, but Moreno proved to be what everybody expected him to be. He started out hot, had some nice games, but has earned the label of being "Soft", and has been constantly injured. He hardly made a dent last year, as Willis McGahee handled almost all the carries last year for the Broncos.
Grade: D-
---
#13) Washington Redskins- Brian Orakpo (DE/OLB Texas)
When Buffalo bypassed Orakpo for Aaron Maybin, the Redskins were ecstatic, wasting little time in getting their pick in. The Redskins needed a pass rusher, and Orakpo throughout the process, was viewed as the drafts best pass rusher. His pure strength, combined with his quickness off the ball, and ability to change directions effortlessly, allowed him to rack up the sack numbers. Once joining the Redskins, he didn't disappoint, even when the Redskins moved to the 3-4 Orakpo didn't lose a beat. He's been the model of consistency for the Redskins, racking up Seasons of 11, 8, and 9 Sacks. Along with fellow young Pass Rusher Ryan Kerrigan, the Redskins can really bring some pressure!
Grade: A+
---
#14) New Orleans Saints- Malcolm Jenkins (CB/S Ohio State)
This was one pick that everybody saw coming a mile away! New Orleans needed help in their Secondary, and Jenkins was the top rated Cornerback in the draft. There were questions about whether Jenkins could make it as a Cornerback in the NFL, but his size and speed combination was too much to pass up. Jenkins made an immediate impact right away as a Nickel Back in their defense that helped bring a Super Bowl to New Orleans. However, Jenkins didn't last long at CB, and moved over to the FS spot when Darren Sharper got hurt. Which turned out to be a great move, as Malcolm Jenkins has evolved into one of the better young Safeties in the league.
Grade: A-
---
#15) Houston Texans- Brian Cushing (OLB U.S.C)

Much like Jenkins to the Saints, this pick came as a surprise to nobody. Houston had a good offense, but their defense was severely lacking. They needed impact players, and had a huge hole at LB next to DeMeco Ryans. Cushing was a huge success for the Texans right away with his high intensity and toughness. He had 133 tackles, 4 sacks, and 4 interceptions, on his way to Defensive Rookie of the Year honors. Maybe he was helped out by being on the Juice, as he was suspended 4 games for testing positive, but even after that, he's still be outstanding. In year three the Texans switched to a 3-4 defense and Cushing was a prefect fit inside and this highlighted his run stuffing and blitzing ability. Great pick for the emerging Texans.
Grade: A+
---
#16) San Diego Chargers- Larry English (DE/OLB Northern Illinois)
It was no secret that the Chargers wanted to add another pass rusher to pair with Shaun Phillips and Shawn Merriman, but not too many people thought it would be Larry English with the 16th pick. English was a fringe 1st round pick at the time, and was one of those "Potential" players, who had a high "Ceiling". And we all know those adjectives are oftentimes the kiss of death! English was thought to be a reach and he proved critics right. English has struggled mightily to make an impact, and has only tallied 7 total sacks in 3 years. English will be fighting for his life this Training Camp, and if he doesn't step it up, he'll be looking for a new job.
Grade: F
---
#17) Tampa Bay Buccaneers- Josh Freeman (QB Kansas State)
Josh Freeman was one of the biggest uncertainties in the 2009 NFL Draft, very raw, but with a ton of talent and potential. Tampa Bay fell in love with Freeman, and traded up to #17 to make sure they got him. Freeman
started off slow in his rookie year, but in year two, Freeman lead the young Bucs to the brink of the playoffs. He threw for 3,451 yards 25 TD's and only 6 INT's. In his third year though, he took a huge step back, but a lot of that could be attributed to a lack of support around him. This upcoming season is a Make-or-Break season from Freeman, and we'll see how good he is, as the Bucs added Vincent Jackson, Carl Nicks, and Doug Martin to this offense. But it's safe to say that Freeman is the clear cut #2 QB in this class, has done some very good things, and still has the ability to be an upper echelon QB in the league.
Grade: B+
---
---
#18) Denver Broncos- Robert Ayers (DE Tennessee)
Why Josh McDaniels felt the need to alienate, and jettison star QB Jay Cutler, nobody will ever know! It was a huge mistake then, and proven to look even worse now. This was the first 1st round pick they got from Chicago, and they they whiffed big-time here. Robert Ayers was a one year wonder at Tennessee, and wasn't even that great of "one-year" at that. He came in this draft as a early 2nd, to late 1st, draft stock. Ayers was also considered to be a 4-3 DE anyway. But McDaniels reached on him hoping he would transition to the 3-4 OLB spot. Instead Ayers was practically nonexistent. In his first two years he register only 1.5 sacks and 58 tackles. In his third year the Broncos moved back to a 4-3, and many thought Ayers would be able to rediscover his pass rushing ability. He improved, but only got 3 sacks. What makes this pick even tougher is that Clay Matthews went 8 picks later and is one of the elite pass rushers in the NFL. 
Grade: F
---
#19) Philadelphia Eagles- Jeremy Maclin (WR Missouri)
Already set with a #1 WR in DeSean Jackson, the Eagles wanted to get even more dynamic, and ended up taking the speedy threat in Jeremy Maclin. Maclin was seen as a raw talent, and many questioned whether he was just a Product of Missouri's spread offense. However Maclin has proven that he is more than a one trick pony, and provided the Eagles with another WR with #1 skills. Now he's never had a 1,000 yard season (Due to Injuries), but he's give the Eagles a reliable threat that has opened up the deep game for Jackson. Maclin has been so good that the Eagles considered not bringing back Jackson when he became a free agent.
Grade: A

---
#20) Detroit Lions- Brandon Pettigrew (TE Oklahoma State)
This pick raised a lot of eyebrows. It was thought that the Lions would go after OT Michael Oher to provide some protection for Matthew Stafford, but the organization stuck to their philosophy of Best Player Available and took Pettigrew who was the most complete TE to come out in years. Pettigrew hasn't disappointed either. Aside from an injury his rookie year, Pettigrew has given Stafford a reliable threat in the middle of the field, and in the red zone. Good for 84 Receptions last year. But his ability to be a very stout inline blocker, and help in the running game makes this pick even better. Pettigrew has improved each year in the league, and is an integral part of very dynamic Lions passing attack.
Grade: B+
---
#21) Cleveland Browns- Alex Mack (Center California)
Not a sexy pick, but Mack filled a huge big hole for their offensive line. Mack has come in and started at Center every game for the past three years. Mack may not be considered the best center in the NFL, but he definitely one of the Top 8-10. Mack also gives the team a strong leader, along with himself and Joe Thomas, they are the only real anchors on their line. Getting a solid Interior Lineman is very underrated, and this is one of the few good moves the Browns have made over the past couple years.
Grade: A
---
#22) Minnesota Vikings- Percy Harvin (WR Florida)
Definitely a Boom-or-Bust prospect, Harvin had top 10 talent, but lengthy injury issues, and off the field concerns had a lot of teams scared. But with Minnesota fresh off signing Brett Favre, in "Win-Now" mode. Harvin gave the offense a huge boost in his rookie season, providing them a big time playmaker out of the slot, in the
return game, and even a few carries out of the backfield. Harvin was named Offensive Rookie of the Year. Harvin has continued to play at a high level despite the lack of talent around him. But just like in college, Harvin has struggled to stay healthy. Whether it's his ankles or his huge issue with migraine headaches, he's never played an entire season and seems to be a game time decision each week. Then add in that Harvin went off on is team this off season and asked to be traded, you can't image he'll be around once his contract expires. Harvin has done his part, and once he gets the chance, he'll probably bolt from Minny ASAP.
Grade: A
---
#23) Baltimore Ravens- Michael Oher (OT Mississippi)
Baltimore always has a knack for having good players fall into their laps. Oher could have gone much higher, but for no fault of his own, he slipped to the Ravens and they snatched him up. The plan was to have Oher start at RT, before eventually sliding over to the LT side to replace Jared Gaither. Oher has started every game for the past three years, but he isn't the LT prospect they thought they were getting. Sure he's filled in on the left side at times, but he just doesn't have the quick feet needed to be a full time starter. So he's not the dominant Left Tackle many thought, but he's one of the most consistent, reliable Right Tackle's in the league. Can't complain too much about that!
Grade: B+
---
#24) Atlanta Falcons- Peria Jerry (DT Mississippi)
This was a pick that myself, the Atlanta Falcons, and pretty much everybody else in the Draft World missed on. For the most part, we all saw Peria Jerry as a consistent 2 Gap penetrator, with a good blend of size and quickness. Unfortunately, Jerry blew out his knee right off the bat, and has never been able to fully rebound. He has been back on the field, but isn't at all the same player we saw in college. He didn't record a single Sack last year, and only has 2 for his career. The door isn't totally shut for Jerry, but there are virtually no expectations for him at this point.
Grade: F
---
---
#25) Miami Dolphins- Vontae Davis (CB Illinois)
Davis was the best cover corner in the draft, but fell down the draft board because teams questioned his maturity and work ethic. Miami needed help at cornerback and took the risk bringing in Davis. Their risk payed off because Davis has developed into the Dolphins best cornerback. Davis has used his good athletic ability to stick to receivers and has even made an impact with his 9 career interceptions. Along with the entire Miami Dolphins, Davis regressed last year, but he should be able to rebound.
Grade: B
---
#26) Green Bay Packers- Clay Matthews (OLB U.S.C)
Early on, Clay Matthews wasn't considered to be an elite prospect by too many scouts. Many even viewed him a 2nd round pick, but he started to pick up steam after an impressive Senior Bowl. Green Bay needed somebody to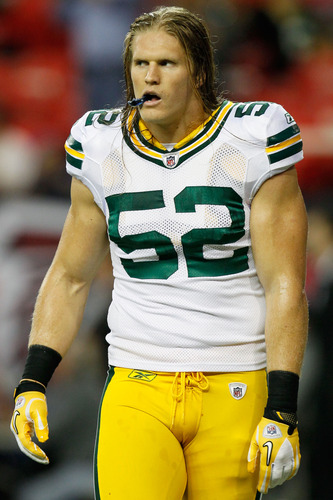 play their OLB position in their new 3-4 and pegged Matthews to be that guy. Some considered this pick to be a slight reach. Obviously though, this pick couldn't have worked out better for the Packers, and it's debatable that Mathews might be the best player in this draft. Since day one, Matthews has been a force rushing the passer and is a threat to be Defensive Player of the Year each and every year. Not too bad for the end of the first round!
Grade: A+
---
#26) Indianapolis Colts- Donald Brown (RB Connecticut)
Indy had a reputation for outside the box picks. They rarely go for a need, rather trying to find an impact player. This year was no different. Nobody saw them taking Donald Brown, and looking back on this pick, they should have stayed away. Brown enjoyed a good final year at UConn, but that success has never translated to the NFL. His skill set is just average, and his body has not showed the durability to really be a reliable asset in the league. In his three years Brown has only 1,423 yards and 10 touchdowns. Not what you expect out of a 1st round pick.
Grade: F
---
#27) Buffalo Bills- Eric Wood (Center Louisville)
With all the teams moving to 3-4 defenses, many coaching staff's felt the need to get bigger Centers to handle those massive Nose Tackles. This pick was a direct impact of Buffalo facing the Jets, Patriots, and Dolphins all have big time Nose Tackles playing for them. Unlike their #11 pick of Aaron Maybin, this pick actually gave them something. Wood has missed 15 games over his three year career, but when he's seen the field he's given the Bills a steady presence at Center. And that's not something a lot of these teams can claim.
Grade: B
---
#28) New York Giants- Hakeem Nicks (WR North Carolina)
After a very impressive final season at UNC, Nicks was highly coveted, but his lack of elite speed and quickness scared some teams away. New York was just off of Amani Toomer retiring and Plaxico Burress going to jail and needed to find some new weapons for Eli Manning. So they took a chance on Nicks, and they hit a Home Run with this one. Not only has Nicks turned out to be the Giants #1 receiver, but he's put himself in position to be one of the top receivers in the NFC and a TD machine. He has some of the best hands in the league, so combined with his size, and underrated athleticism, he's a matchup nightmare! This might be one of the biggest steals of the entire draft! 
Grade: A+
---
#30) Tennessee Titans- Kenny Britt (WR Rutgers)
I hate to do it, but we have to give out an INC, because Kenny Britt's career has been so extremely up and down, that at some points you think he's a Top 10 Receiver, and other times think he could be out of a job! We need more time on this one. With no real talent at receiver on their roster, it was no surprise they went after Britt at this stage of the draft. He slid down the draft because there were concerns for his character (Which have manifested). But with strong leadership with HC Jeff Fisher, they decided to take the risk. On the field, Britt was phenomenal. He was a big play threat and the weapon they desperately needed on the outside. However, injuries and off the field troubles have really limited his effectiveness. Add in that Britt was just arrested again this off season and it's a guarantee that he'll be suspended by Roger Goodell. Unfortunately, the Titans can't count on Britt right now, and if they will ever be able to is in serious doubt.
Grade: INC
---
#31) Arizona Cardinals- Chris "Beanie" Wells (RB Ohio State)
Even though the Cardinals made it to the Super Bowl behind Kurt Warner and an air it out offensive philosophy, HC Ken Whisenhunt knew that Warner wouldn't be around much longer and wanted to make this offense into the power running team like he had when he was the OC in Pittsburgh. This pick was a step in that direction. Wells was a big physical runner who got the tough yards. However there were some real big concerns about injuries that dogged him in college. So far his stint in Arizona has been unspectacular. Sure he rushed for over 1,000 yards last year. But it was only 1,047 because of more injuries. Wells has been beat up and unable to be the playmaker they thought they were getting. Heck, they even drafted Ryan Williams in 2011 to be their starter and team up with Wells. He hasn't been a bust by any means, but he certainly hasn't reached his potential
Grade: C+
---
---
#32) Pittsburgh Steelers- Evander "Ziggy" Hood (DT/DE Missouri)

Pittsburgh has had one of the best defenses in the league for many years. But some of the stalwarts were getting up there in age, and they were looking to get some young players to eventually work their way in. Evander Hood played DT at Missouri, but based on his size, upper body strength, and nasty demeanor he was thought to be a perfect 3-4 DE. Due to the veteran talent on the roster already, and the nature of the position, its hard for Hood to be too spectacular. Hood has managed to play in every game in his three year career, and has developed into a decent starter. Now it's not like the Steelers got an All Pro here, but if you can get a reliable starter at 32, most teams are going to take it.
Grade: C
---
Notable Later Round Picks

Louis Delmas (#33)
James Laurinaitis (#35)
Lesean McCoy (#53)
Sebastian Vollmer (#58)
Shonn Greene (#65)
Mike Wallace (#84)
Ladarius Webb (#88)
Johnny Knox (#140)
Arian Foster (Undrafted)
---
Best and Worst of the Draft
Best Value: Pittsburgh with Mike Wallace at pick #84
Worst Value: Dolphins with Pat White at #44

Best Draft Class: Detroit Lions- (Matt Stafford, Brandon Pettigrew, Louis Delmas, Deandre Levy, Sammie Lee Hill). Matt Stafford threw for the 5th most yards ever last year. Pettigrew and Delmas are exceptional starters. Levy and Sammie Lee Hill are young players who see a lot of field for Detroit.

Worst Draft Class: Dallas Cowboys- Dallas Cowboys (12 picks, but no picks in the first two rounds. Only player that has made any sort of impact for the team is 5th round kicker David Buehler as a kick off specialist).
Interesting Fact: New York Jets had only 3 draft picks in this draft. All three players have become starters. QB Mark Sanchez (#6), RB Shonn Greene (#65), and G Matt Slausen (#193)
---
There you have it, we have closed the book on the 2009 NFL Draft. Hope you enjoyed it. See you next August for our 2010 draft review.
---
Disagree with our assessment/grade of any player? Let us know! Feel free anytime to hit us up to talk Draft!